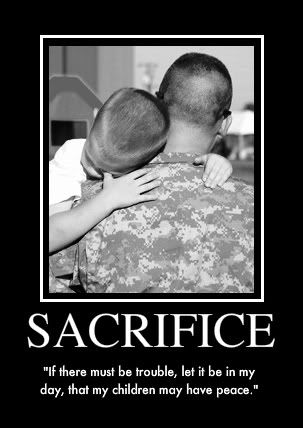 April is the
Month of the Military Child
, sponsored by the Department of Defense's
Military Community and Family Policy
. It has been celebrated annually since former Defense Secretary Caspar Weinberger established the commemoration in 1986.
The purpose of the Month of the Military Child is to take the time to remember, recognize, and honor the children of our nation's military, the "unsung heroes" who are serving right along with their parents.
As we are reminded so often, freedom is not free, and all of us (either military-supporting or not) benefit from sacrifices our military men and women make. But what we often don't recognize is the sacrifice that military children make which, is in turn, a sacrifice made for our country.
So I wanted to take a bit of time this month to write a few things about the wonderful men, women, and children that serve our country, both through active and reserve duty as well as the families who support them from home. More coming soon.
"But let all those that put their trust in thee rejoice: let them ever shout for joy, because thou defendest them..."