-To the right of the door is a bulletin board, which I have attempted to use for a variety of purposes, including simply displaying Hunter's art work and projects, to posting daily schedules (in big letters so Hunter could easily read them), to even posting all the categories of bits and other subjects we would be using during the week. Right now it has a few random crafts as well as a daily schedule on the side.
-Below the bulletin board is
Hunter's clock
(which at the moment has no hands on it. Really useful, I know) and to the right is a bunch of empty wall where I have been intending to hang some amazing bookshelves for, er, I think it's in the
years
category now.
Here are some close-ups of the other components of this wall:
-Hunter's
toy shelves
, which I absolutely love. We have had these for years and they not only hold a lot of toys in not very much space, but they're also accessible, make clean-up easy, and are a very attractive display (although this picture doesn't exactly say much, considering all the dust visible on the floor and the half-filled bins). Right now they hold: -
Wooden blocks
,
alphabet blocks
,
train set
,
tinker toys
, misc. musical instruments,
builders and benders
, misc. cars, and some other stuff (like kids meal toys and nun chucks).
-This is a fairly new addition, and in the spirit of "Montessori" style accessible shelves. On the bottom shelves are a variety of board books and a great deal of wooden peg puzzles. On the middle shelf is a basket full of baby toys,
alphabet stacking / nesting blocks
, a
pound and roll toy
[
link is newer version
], and a
pound-a-peg toy
. In case you couldn't tell, these shelves were mostly intended for my nephews and the kids I babysit sometimes, although Hunter still plays with these toys every once in a while!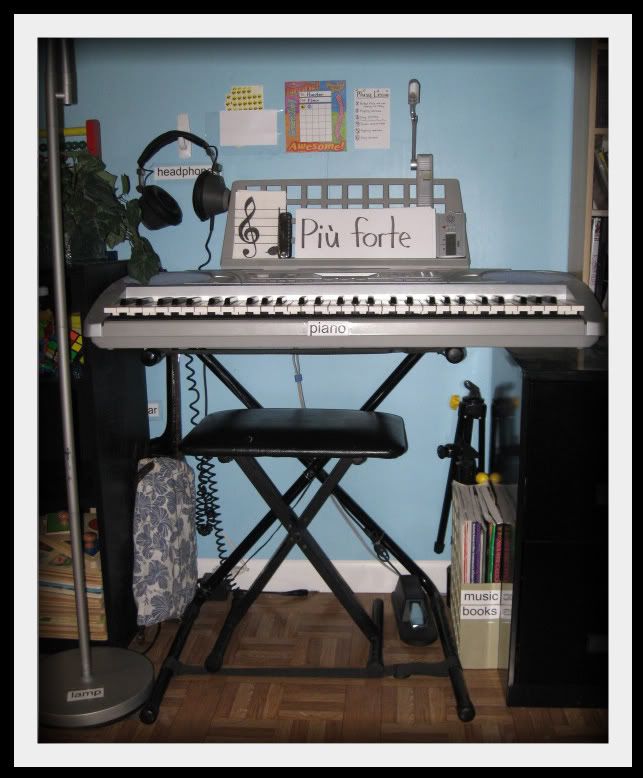 Next stop: piano. This little corner holds
our keyboard
, a
First Act guitar
, a
National Geographic telescope
, and a magazine holder full of music books. Above the piano are some headphones, a sticker chart for music lessons, a little light, a
guitar tuner
, and some music terms and musical notation flashcards.
"He hath shewed thee, O man, what is good..."
Micah 6:8
Hunter is 4 years, 5 months old