"Remember that this is accelerated learning and when children catch the math bug, let them indulge it! That is the goal of the program."
Dr. Jones, Jones Geniuses Accelerated Education
Why does Hunter have such a big, exuberant, giddy smile on his face in this picture, you ask?
Because he just finished doing almost a hundred addition equations, of course!
Hunter is really starting to love his daily practice sheets in his
Math Three Super-Math
curriculum. His ridiculously enthusiastic smile in this picture happens to be because he couldn't stop laughing through this whole Factsmaster sheet because he is beating his previous time.
The goal is to be able to do all 100 equations in under five minutes, with a perfect score (it's three minutes for teens and up). The worksheets are different each day, so you're not just memorizing the order.
And once he beats that five-minute mark? He gets his Factsmaster ribbon, for that subject (addition, subtraction, multiplication or division). Which he is
uber
excited about, to say the least.
Some of the topics coming up in his
Math Three
program, include borrowing and carrying, times tables up to 100, advanced auditory memory training, proper and improper fractions, powers and roots, long division and multiplication, decimal fractions and percents, and, well, a
ton
of other stuff.
Mom
is a little bit intimidated.
But I'm just going to have faith in my child that kids are far more capable than we give them credit for. And, besides. How hard can it be if he's caught the math bug?
See my review of their
Math One program here
. A full review on Math Three will be coming soon!
"Take ye the sum of all the congregation of the children of Israel... thou and Aaron shall number them..."
Numbers 1:2-3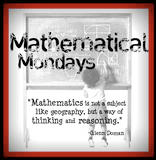 Hunter is 5 years, 7 months old
I'm linking this post up here.